Penthouse
With an European-style classic interior and a perfect city view, Penthouse is VIP-only and Oakwood Premier's finest room.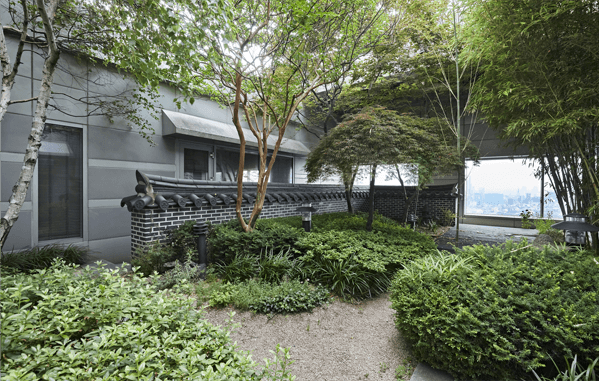 Wake Up In Luxury
Located on the hotel's highest 27th floor, Penthouse is the room for VIP guests. Specially designed by the world's leading interior company, Nadel Architects Inc., it is a magnificent 120 pyeong unit with private garden.
The European-style classic yet antique master bedroom is connected with an ultra-luxury bathroom and dress room that overlooks the beautiful night view of downtown Seoul and widely open Hangang River view.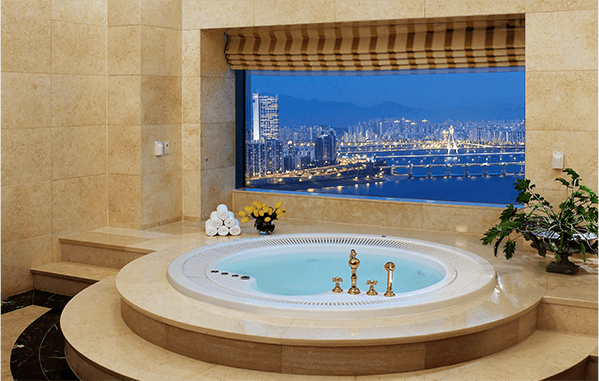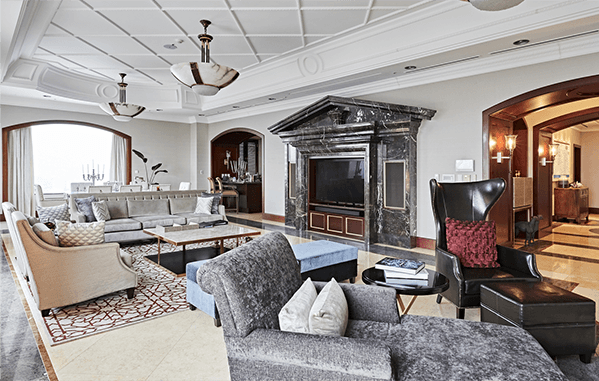 With elegant marble furnishings, the living room provides a comfort and coziness of a villa. With fireplace, premium home theater system, stylish and antique decorations and furniture, art ornaments, state-of-the-art electric curtains and lighting systems, it offers an exquisite harmony with aesthetic senses.
With a built-in wine refrigerator, the luxurious open-bar style system kitchen and premium dining room, it creates a beautiful and antique atmosphere.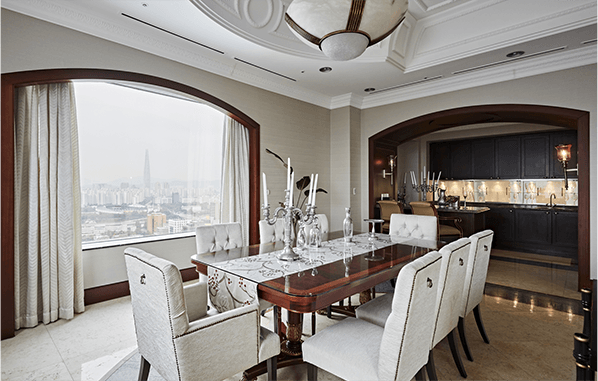 Specialties of Oakwood
Specialized rooms for long-stay guests

INFORMATION
Check-in
Check-out
Capacity
Size
Bed type
15:00
11:00
6
423㎡
3 King
Kitchen facilities
· Halogen induction range
· Fan hood
· Built-in, family-size refrigerator
· Wine refrigerator
· Kitchen tools & utensils
· Dishwasher
· Microwave
· Electric rice cooker
· Electric kettle
· Toaster, coffee maker

Household appliances
· Full-size TV, home theater
· Fireplace
· Washing machine, dryer
· Iron, ironing board
· Remote control bidet
· Steam sauna
· International direct call, voicemail box
· Private safe
· Hair dryer
· Digital scale

Convenience facilities
· Oak Restaurant & Bar
· Banquet rooms
· Business Center
· Fitness Club
· Kids Playroom
· Airport limousine shuttle stop
· Parking lot

Available services
· Free Wi-Fi
· 24-hour front desk and concierge
· High-tech CCTV/DVR security management system
· Housekeeping and room service
· Courier, newspaper delivery, rental car, childcare, wake-up call service
· Laundry and dry cleaning service (paid)
· Special activity programs for long-stay guests
Parking
Free parking for up to 1 vehicle per room, and for the visitor, it is free for max. 3 hours for 1 vehicle only. (Basic parking fee - 4,800 won per hour / Additional fee after 3 hours - 2,400 won per hour)